If you're looking for healthy drinking water, then installing one of the many reverse osmosis filtration systems on the market is a great place to start. However, if you want the crème de la crème of water purification systems, then you're going to want to pick one of the top two Waterdrop filters you can find – the G2 and G3.
But which one of these systems is better for your home? Which will offer you the most protection against contaminated water? To answer these questions, it's important to pin these two water filters against one another in the ultimate water purifier showdown – the Waterdrop G2 vs G3.
If you want to know which one comes out on top, keep reading as we take a comprehensive look at everything they have to offer.
When it comes to purifying your drinking and cooking water, the Waterdrop G2 has beaten out its competitors time and time again. It's designed to remove over 1,000 pollutants from your drinking water and can remove Total Dissolved Solids (TDS) by more than 90%.
Of course, it has several other features that set it apart as one of the best water filtration systems money can buy. Some of its most notable features are:
Filtration process
One of the unique selling points of the Waterdrop G2 is its five-step filtration process, which includes:
Sediment PP (polypropylene) membrane
Activated carbon block filter
A second sediment PP membrane
Reverse osmosis membrane
A second activated carbon block filter
This multi-stage filtration Waterdrop reverse osmosis system filters out impurities effectively for better-tasting water and improved water quality. It even increases the PH of the filtered water so that it's more alkaline.
Lifespan
The lifespan of the Waterdrop G2 is relatively long compared to other reverse osmosis systems on the market, and can filter water effectively for a decent period before the filters need to be replaced. Although these times are comparatively long to its competitors, they're not bad compared to the G3. Still, they're incredibly effective for the G2's price point.
Flow rate
The Waterdrop G2 has an excellent flow rate. It can produce up to 400 gallons per day (GPD) of filtered water, which means you get access to clean, purified water in seconds. Impressively, this number is four times better than other available water filters.
Still, this is only half of the flow rate of the G3, so it's important to consider how many gallons of purified water your home needs every day. Bigger households may need more than just 400 gallons, but the G2 may still work well for smaller homes or apartments.
Compatibility
The Waterdrop G2 is compatible with most standard sinks and can fit seamlessly beneath them. It's important to store these water filters so they can connect to both your water source (the sink) and an electrical outlet to function.
If you don't have an outlet under your sink, you can always store your Waterdrop G2 in a cabinet nearby – as long as it stays connected.
Filtration performance
Despite having two fewer filtration stages than the G3, the G2 still performs well and can effectively remove impurities from your water. Not only that, but it rids your water of any nasty chemicals or contaminants that you may not know are there, making your water safer and cleaner.
Unique features
The Waterdrop G2 has an internal pump that helps the system maintain a more stable flow rate. In fact, it can deliver a full cup of water in under 15 seconds, making it one of the fastest and most reliable filters money can buy.
And if you're worried about how the system looks – don't be! The G2 comes in both black and white colorways to suit your home's aesthetic, making them more visually appealing than other, bulkier systems.
Value for money
Are you on a budget? If so, the G2 is the ideal choice for you. Although Waterdrop filters are typically more expensive than other filters on the market, their price points are easily justifiable considering their features. There are hardly any other systems that can offer the same performance, lifespan, and power as the G2 and G3, which makes them fantastic investments.
The G2 is slightly less expensive than the G3 but may offer you less bang for your buck in terms of functionality.
Waterdrop G2 Pros and Cons
Pros
Cost-effective: The Waterdrop G2 is generally more affordable than the G3. It's a budget-friendly choice compared to other reverse osmosis filtration systems on the market.
Space-saving design: Like the G3, the G2 doesn't have a storage tank – it's completely tankless. This means it can fit in smaller cabinets, making space-saving a breeze.
Fast flow rate: The G2 has a fast flow rate for its size, and filters out any impurities effectively. It is, however, slightly slower than the G3.
5-stage filtration: The Waterdrop G2 has a five-step filtration process that removes more than 1,000 contaminants – resulting in high-quality drinking water.
Smart filter lights: Like the G3, the Waterdrop G2 has smart filter lights, giving you an idea of when your Waterdrop filters need to be replaced.
Cons
Fewer filtration stages: The Waterdrop G2 only has five filtration stages, two less than the G3. This could potentially affect the quality of the filtration process.
Basic filter life indicator: Although the Waterdrop G2 also has smart filter lights, they're much simpler compared to the G3 and may not be as precise.
Higher drain ratio: The G2 generates more wastewater per glass of clean drinking water than the G3.
The Waterdrop G3 is the new and improved upgrade of its predecessor, the G2. Although the G3 has some similarities to the G2 – like the flow rate, tankless design, and drain ratio – it has better composite filters. It's designed to give you a glass of purified water much faster than the G2 but with a more compact design and minimal water wastage.
So, how does the Waterdrop G3 compare to the G2's specifications and features? Let's take a closer look.
Filtration process
The Waterdrop G3 uses a seven-step filtration process, which is more comprehensive than the G2's five filtration stages.
These seven stages include a pre-filter with a scale inhibitor, a reverse osmosis system filter with seven layers, and a post-filter with activated carbon. The post-filter is where the magic happens; it removes odors from your water and gives it a smoother taste.
The G3 system also features a UV sterilizer that destroys up to 99.9% of microorganisms, bacteria, and viruses in the water.
Lifespan
The lifespan of your G3 filtration system depends on the specific filter. The replacement times are:
Pre-filter: Every six months
Carbon block filter: Once a year
Reverse osmosis system membrane: Every two years
Luckily, you won't need to mark these replacements off on your calendar. The Waterdrop G3 has a Smart Filter Life Indicator that uses LEDS to give you visual clues for when you need to replace your filters. Each color has a specific meaning:
Blue: The G3 is working perfectly.
Yellow: The filters need to be replaced soon (this gives you time to purchase the replacements).
Red: The filters need to be replaced as soon as possible.
Flow rate
The G3 has a faster flow rate compared to the Waterdrop G2. It's powerful enough to provide one cup of filtered water with a filtration speed of around 12 seconds. That means no more drinking impure water just because it's quicker.
The Waterdrop G3 system also has a high throughput of up to 800 GPD of filtered water, which makes it perfect for bigger households, offices, and small businesses.
Compatibility
Like any good filtration system, the Waterdrop G3 is designed to be installed under your kitchen sink and fit standard 110V – 240V outlets. Since there's no bulky storage tank, it doesn't take up too much space.
But that's not the best news. Rather, it's that the installation process is straightforward, making it simple enough to do with basic DIY skills!
Filtration performance
The Waterdrop G3 is incredibly effective at reducing water hardness. It lowers the levels of calcium and magnesium in your tap water, which is great for your plumbing and the taste of your water.
Since it has seven layers within its filtration system, you're guaranteed high-quality water – with none of the gunk or bacteria of standard tap water.
Unique features
One of the best features of the Waterdrop G3 is its low drain ratio of 3:1, which means you can get three cups of clean water while only draining one cup of wastewater. This is more efficient than almost any other reverse osmosis filtration system out there! Its system is actually a three-in-one since it has a pre-filter, reverse osmosis filter, and post-filter, which is what makes it perform so well.
Additionally, the smart faucet with a filter life indicator helps to make filter replacement easier than ever. The UV sterilizer also helps to eliminate micro germs, giving you safe, clean drinking water every time.
But that's not all! This small and discreet system is space-efficient and comes with anti-vibration pads to reduce noise. In fact, it's so quiet, you'll probably forget it's there!
Value for money
Although the Waterdrop G3 is more expensive than the G2, it offers you better value for your money. Its improved performance and more advanced features are worth the price point. It's also easy to justify the cost when you get your hands on a clean, tasty glass of water using the G3.
Waterdrop G3 Pros and Cons
Pros
Advanced filtration: The Waterdrop G3 has a seven-step filtration system, which means a more efficient purification process compared to the Waterdrop G2.
Additional composite filter: The G3 has an extra composite filter, making its performance much better than the G2.
Smart filter life indicator: You can accurately track the filter life accurately using the filter's smart features, which are more advanced than the Waterdrop G2.
Better taste: With better water quality comes better water taste, which is exactly what you'll get! The G3 removes residual impurities and odors so that you can enjoy your water like never before.
Anti-vibration pads: Thanks to the anti-vibration pads, you won't have to worry about noisy filtration systems anymore!
Cons
Higher cost: The G3 is slightly more expensive than the Waterdrop G2, so it may not fit everyone's budget.
Slightly longer wait times: Although both models have a high flow rate, the G3's extra filtration stages may mean longer waiting times. However, the extra time is barely noticeable, and the water quality alone justifies the wait.
More components: Since the G3 has an extra composite filter, it means more parts to maintain and replace.
Waterdrop Filters Review: Which One Is Better?
So, what's the final verdict in the great head-to-head of the Waterdrop G2 vs G3? Well, the answer is: it depends. While both of these water filtration systems are designed to provide homes with cleaner, healthier drinking water, your pick will depend on your specific needs.
The Waterdrop G2 is a fantastic, cost-effective choice if you're on a budget. The five-step filtration system rids your water of more than 1,000 contaminants that may otherwise be thriving in your drinking water. Plus, it has a good flow rate, smart filter lights, and a space-saving design. It's the perfect choice for smaller homes or apartments.
However, if you want a more powerful water filtration system, the G3 should be your go-to pick. Although it may be more expensive, it's still excellent value for money.
The Waterdrop G3 really ups the ante and takes water purification to a whole new level. It has two extra layers of filtration, which means you're getting cleaner, healthier water compared to the G2. It even has an extra composite filter for better performance, which means that this nifty little water filter does more than its fair share of heavy lifting.
If you're concerned about noise or overcrowding, then don't be. The G3's anti-vibration pads make it as quiet as a mouse, and the lack of a bulky storage tank means it won't take up any unnecessary space. Plus, its smart filter life indicators add an extra touch of convenience.
Ultimately, your choice will depend on your budget, water quality concerns, and your need for more convenient features. But if you're willing to invest a little more into your water filter, then the G3 takes the cake!
FAQs
Can I install Waterdrop G2 and G3 filters without professional assistance?
Both the Waterdrop G2 and G3 water filtration systems are made to be easy to install, with simple step-by-step instructions. The installation process for both of these devices takes less than 30 minutes and can be done easily at home.
Still, if you're feeling uncertain about installing your Waterdrop filter on your own, then you can always consult a professional. Most people find them simple enough to do on their own, though, and there are instructional videos that you can use to make it even easier.
How often do the filters need to be replaced for the G2 and G3?
When it comes to Waterdrop filters, both the G2 and G3 have relatively long lifespans. However, the G3 beats out the G2 and will need fewer filter cartridge replacements over the same period.
Generally, the lifespan of your system depends on several factors, including the quality of the water source and how much water you use on a daily basis.
The composite filters typically last around six to 12 months before they need to be replaced, while the reverse osmosis membrane can last for up to two years. Just be sure to keep an eye on the replacement indicator lights to know when to change the water filters!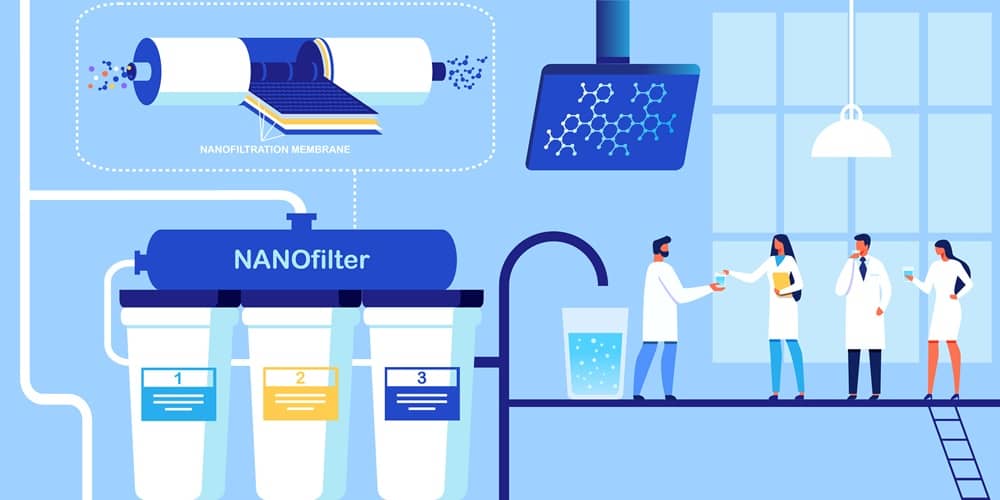 Final Thoughts
The Waterdrop G2 and G3 both stand as impressive contenders when it comes to picking a reverse osmosis system for your home. They should each give you healthier drinking water using their advanced filtration processes, but which one you pick will depend on what you're looking for.
No matter which one you choose, you're guaranteed an impressive purification experience. Still, the smart features, impressive performance, and impeccable water quality that you can get from a G3 system are unmatched, making it the better choice overall.